December 2013
Background
In 2011, the University of Nevada, Reno | Business Environmental Program (UNR-BEP) partnered with the Nevada Governor's Office of Energy and NV Energy to successfully pursue a US Department of Energy grant to analyze and enact methods to significantly improve Nevada's regulatory and policy environment for implementing energy efficiency projects in the state's existing commercial buildings. The goal of the program has been to shift the way commercial building retrofit projects are evaluated, implemented and financed, from both an energy-savings and financial return perspective.
UNR-BEP was awarded a sub-grant to research current economic development and energy policies and address specific barriers to commercial building energy efficiency retrofits, with a particular emphasis on financing barriers.
Reports
The following white papers and reports have been prepared by UNR-BEP under this grant project:
Assessment and Recommendations: Alignment of Nevada Economic Development Policy & Energy Policy White Paper. October 30, 2013
Energy Efficiency Financing for Commercial Buildings in Nevada. November 27, 2013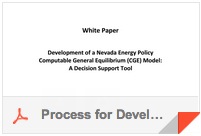 Development of a Nevada Energy Policy Computable General Equilibrium (CGE) Model: A Decision Support Tool White Paper. November 2013
Next Steps
Based on the research and recommendations developed in the above white papers and reports, the Nevada Governor's Office of Energy has established eight key working groups and, in early 2014, will lead the development of an implementation plan and action strategy to increase the number of commercial building energy efficiency retrofits in Nevada.
Additional resources:
Nevada Governor's Office of Energy | Commercial Retrofit Grant