Chris Lynch, Director
Chris is a nationally recognized expert on small business environmental and energy issues.  Prior to joining UNR's BEP in January 2011, he launched and managed a similar program for 13 years at the Wharton School of the University of Pennsylvania.  He has served as an adviser to organizations including the Center for the Small Business and the Environment, Environmental Defense Fund, and the Pew Center on Global Climate Change.  Chris also worked at the National Defense Center for Environmental Excellence where he educated defense facilities and contractors on environmental compliance requirements and pollution prevention strategies for meeting those requirements.  Chris provides overall management direction for the Business Environmental Program and its pollution prevention activities. Send email
Eric Florio, Air Quality Business Adviser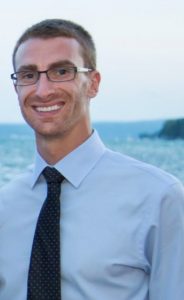 Eric Florio joined the BEP as our Air Quality Business Adviser.  Eric works out of BEP's office in Reno and provides air quality assistance statewide under our contract with the Nevada Division of Environmental Protection.  If you have air quality permitting or compliance questions, especially if you are a new or expanding business needing to determine if you need a permit, get in touch with Eric.
Eric is a New York native who is new to the West.  He has a Masters in Environmental Science from Adelphi University and a J.D. in Environmental Law from Vermont Law School. He previously worked in the energy sector while living in Vermont.  Eric brings additional knowledge and experience in the environmental field to our team. Send email
Elizabeth Futch, Special Projects Manager
Elizabeth Futch joined BEP as a special projects manager. She has 20 years of small business experience and is particularly interested in assisting small to medium sized industrial and commercial organizations in their sustainability efforts. She brings to BEP experience in sustainability planning, GRI reporting, project management, and small business ownership.
Liz holds a M.S. in Environmental Management & Sustainability from Illinois Institute of Technology, an M.B.A. from Grand Valley State University, and a B.A. in Business from Michigan State University. In addition, she has LEED GA and ISSP SA certifications. She has also taken the GRI Certified G4 Sustainability Reporting Course and CDP Certified Climate Change Course. Send email