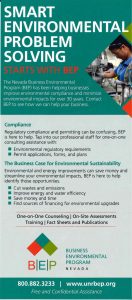 Business Environmental Program Rack Card
This rack card gives a general outline of the Nevada Business Environmental Program (BEP). BEP serves the entire state through offices in Reno and Las Vegas. We provide free and confidential environmental compliance and management assistance to help you improve your business. Our focus is on making Nevada's businesses stronger and environmentally responsible.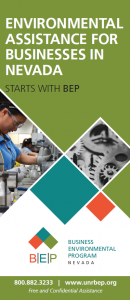 Business Environmental Program Brochure
This brochure gives an overview of BEP and the services we provide to businesses. The Nevada Business Environmental Program (BEP) has been helping businesses and governmental organizations improve environmental compliance and minimize environmental impacts for over 30 years. Contact BEP to see how we can help your business.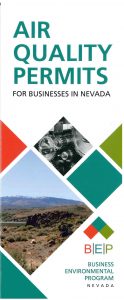 This brochure answers some common questions small and medium-sized businesses ask about air quality regulations and provides initial guidance on the Nevada Division of Environmental Protection's permitting process. It is intended as an introduction, not as a comprehensive guide.