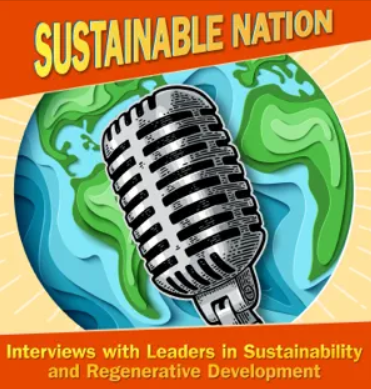 The Nevada Business Environmental Program is delighted to announce a new partnership with the Sustainable Nation podcast.
In this podcast hosted by Josh Prigge, founder and CEO of Sustridge Sustainability Consulting, global thought leaders are interviewed to get their take on current environmental sustainability issues and to discuss initiatives their organizations are taking to advance sustainability.
Listen in for new ideas and advice for your business by checking out the latest podcast, an interview with Ratish Namboothiry. Mr. Namboothiry is the Director of Innovation for Good & Sustainability at Kohler Company, a global leader in the manufacture of kitchen and bath products. He has been a sustainability champion throughout his career at Kohler – including bringing new water efficient plumbing products to market and leading innovation at the company.
Be sure to also check out the full library of podcasts with notable sustainability leaders including:
William McDonough, co-author of Cradle to Cradle: Remaking the Way We Make Things
Cheri Chastain with Sierra Nevada Brewing Co
Catherine Kummer at NASCAR
Pranav Jampani with Las Vegas Sands Corp
Yalmaz Siddiqui at MGM Resorts International, and
Scott Paul at Taylor Guitars